The Balcony Ballroom Metairie Wedding Photographer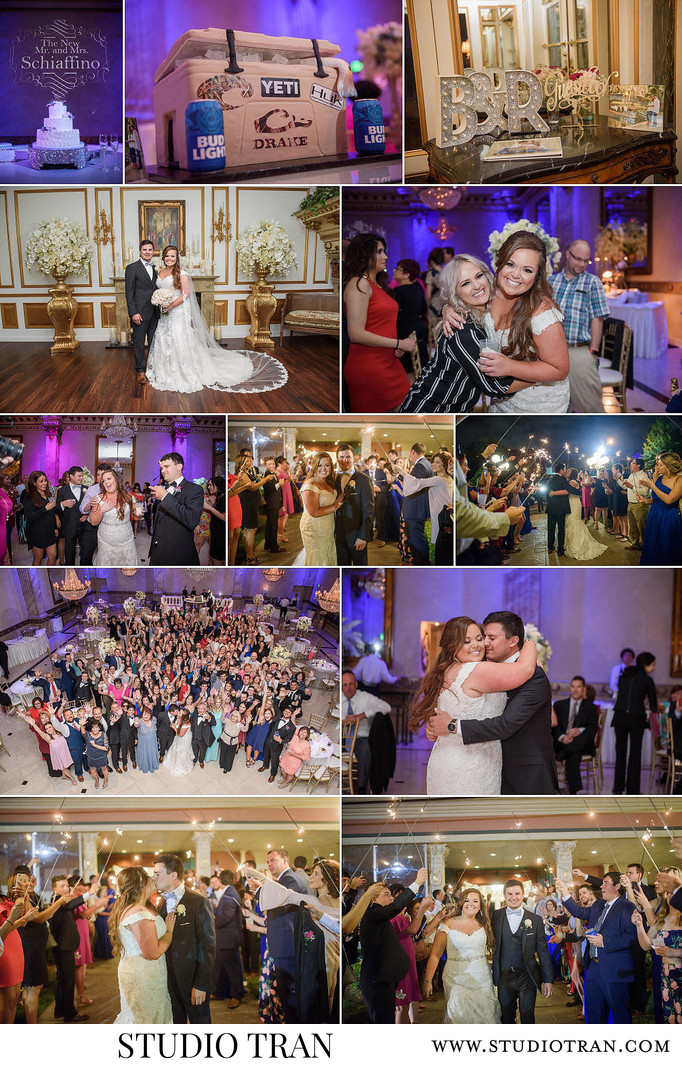 How did you meet?
We met at the Endymion parade when we were 15 years old!
Ryan didn't say ONE word to me that night but later that week I got a friend request on MYSPACE....and we've been together ever since!
How did the proposal go? Who proposed to who, were you surprised?
We had been dating for 8 years when Ryan proposed to me at the Bayou Country Super Fest in Baton Rouge, LA. He proposed to me right before the concert, infront of everyone with Mike the tiger in the background!
We were there to see Luke Bryan ~my favorite person in the world, next to my husband of course ;) So baisically, Luke Bryan was at my engagement....
Where was your ceremony held and why did you pick this site?
St. Josephs Catholic Church on Tulane in New Orleans -
I graduated from Mount Carmel and that is the church we had our graduation mass at in 2010, so it was just special to me. Not to mention it has the longest aisle in the south, so that was a plus too! More time for Ryan to admire my dress ;
Where was your Reception held and why did you pick this site?
The Balcony Ballroom in Metairie, Louisiana
From the moment I walked into the Balcony for my first meeting with Vanessa I literally knew this was the place. The place itself is beyond beautiful but Vanessa, Jay, and the rest of the staff are so unbelievably amazing. You literally don't have to worry about ANYTHING because they take care of it all for you with out even having to ask!
Did it really go by as quickly as everyone says?
YES. You literally blink and you're getting into the limo to head back to the hotel.
From the Bride - When you first saw the groom, what were you thinking/feeling?
I was in the back room of the church anxiously waiting for what felt like forever. Then the moment the church doors opened and I saw Ryan at the end of the aisle, I felt a calming vibe come over me. I literally locked eyes with him and didn't look anywhere else. It was a moment/feeling that I will never forget.
From the groom - When you first saw the bride, what were you thinking/feeling?
"I was thinking that she was the most beautiful bride that I had ever seen and couldn't wait until Fr. Beau announced us as husband and wife so I could officially spend my life with her."- Ryan
Who was your baker, what was the flavor of your cake? Was it delicious?!
La Louisiane Bakery- Our wedding cake was almond funfetti flavored and the grooms cake was red velvet. You can not go wrong with La Louisiane! Everything was AMAZING! Our guests are STILL talking about our cakes!
Did you do a first look? If so how did you feel about it? If not, do you wish you had?
We had mixed feelings about a first look. I wanted to do one but Ryan didn't, so we compromised. We did a "partial first look" where he was blindfolded! I absolutely loved it because it gave us a few minutes to just talk to eachother and calm eachother's nerves before the ceremony. A moment we will both cherish forever.
Did you have a coordinator or did you plan everything yourself? If you didn't have a coordinator any advice for brides planning their own wedding?
We didn't use a coordinator, but my advice is to stay very organized!
I swear by To-Do lists!! I had an endless amount of them... all through out the house, in my car, my purse, and at work. You never know when you're going to think of a great idea!
What was your first dance song? Why this song?
"Incase you didn't know" by Brett Young-
We went through a MILLION songs until we realized that we were thinking too much into it. Don't worry about the words, the beat, or what your guests might think- it's a one time thing and everytime you hear it on the radio it will make you think of each other
Band or DJ? Did they rock it?
Without a doubt- DJ!
Plus it gives your guests the option of requesting certain songs they want to hear too
We want to hear YOUR advice for future brides.
Don't let ANYTHING get to you. The thing that you least expect, something that you are certain would never happen, will happen. You're going to have a few hiccups through out the entire process, but just remember that it is all worth it in the end. And no matter what goes wrong, it won't stop you from marrying your best friend! Keep your eyes on the prize!
Location: 4738 Utica St, Metairie, LA 70006.