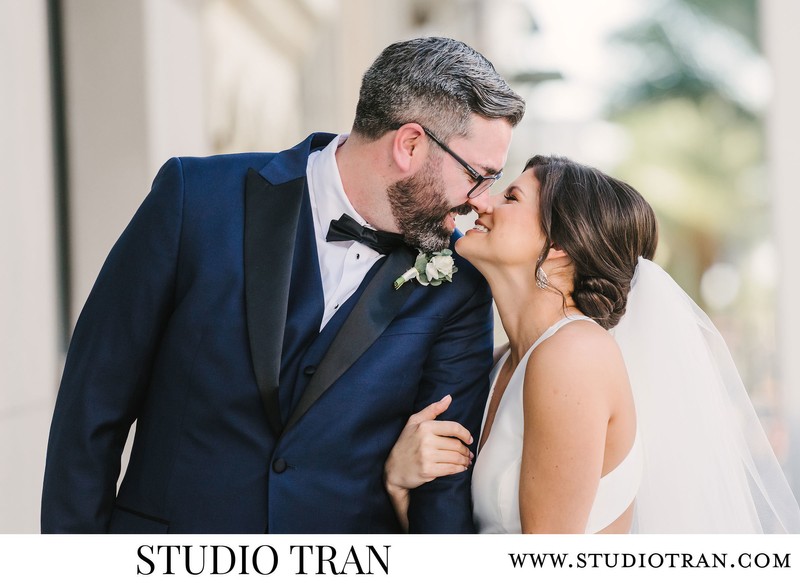 "I cannot even begin to say enough amazing things about Studio Tran Photography!! After photographing several of my family members weddings and now my own, they simply feel like family now. Corine, Beebe, and Kacie are not only SO INCREDIBLE at what they do, but SO KIND as well! One of the many pieces of advice that I received going into my wedding was to not get so caught up in making sure to get all the right pictures, and to enjoy the day/night. Not for ONE SECOND did I have to worry about this with Studio Tran. Beebe actually told me a couple days before at my bridal shoot (which the portraits were INCREDIBLE-- so talented. I HATE getting portraits done and he made it so easy and fun) to not worry about them at the wedding, and they will make sure to capture all the perfect moments. I took his advice and did just that. I honestly felt like there was paparazzi around me throughout the night, and I received so many comments from my guests about how awesome our photographers were! Corine is SO organized and helpful leading up to the wedding. Whenever I had questions about ANYTHING wedding related-- she was my girl and always had very detailed and helpful answers/suggestions. I could tell she really cared about making sure my voice was heard when it came to what pictures I knew I absolutely wanted-- and by all means, her team was ON TOP OF IT the day of to get all those pictures taken care of (and I have a HUGE family). Again, I cannot recommend Studio Tran enough times. I am actually having them photograph our one-year anniversary party as well and cannot wait to just have them there for the celebration!! THANKS SO MUCH, STUDIO TRAN!!!"
Bridal Prep: JW MARRIOTT New Orleans
Ceremony: St. Josephs Church
Reception: Margaret Place Hotel
Videographer: Bella production
Band / DJ: TBD
Coordinator: Tori Patton
Florist: Iris Floral
Bakery: Gambino's Bakery
Hair: Flawless Bride
Makeup: Flawless Bride
Bridesmaid Gown designer: Azazie
Tuxedo Store: Men's Wearhouse

How did you meet?
I moved to Boston in 2017 and became fast friends with one of my coworkers, Jen. She was dating a guy named, Jeff, at the time (and they are now married). After a few months of knowing Jen, she told me that she wanted to introduce me to Jeff's best friend, Mike! So, we went on a double date to a restaurant on Plum Island and hit it off right away! Before I had met Mike, he had already gotten the 4 of us tickets to a Dispatch concert, which we went to shortly after our first date!
How did the proposal go? Who proposed to who, were you surprised?
My family was in town visiting and we took them on the walk that we would take our dog on. When we got to the park, which is right on the water, my sister asked me to take a picture of her and her boyfriend. When I turned around, Mike was down on one knee. I was so surprised. Then I thought that we would be going on a sunset cruise later that day, but when we got back to our apartment, Mike's family and our friends were there to surprise me!!! Mike had even flown up by best friend from Alabama. We cheers with champagne and cake! So fun!
Where was your ceremony held and why did you pick this site?
St. Joseph's Catholic Church. I chose this church because my parents were married in this church as well as my older brother.
Where was your Reception held and why did you pick this site?
Margaret Place Hotel! It was our FOURTH wedding venue due to COVID and then 3 weeks before the wedding, Hurricane Zeta destroyed our third venue (the La Maison Du Lac). We ABSOLUTELY LOVED the Margaret Place and if we had known about it all along, we would have chosen it anyway!
From the Bride - When you first saw the groom, what were you thinking/feeling?
My heart was fluttering walking down to meet him at the first look. When I saw him I teared up and was thinking that we finally made it to the day and I couldn't wait to marry and spend forever with him!
From the groom - When you first saw the bride, what were you thinking/feeling?
When I first saw her I didn't have the words to tell her how beautiful she looked and could barely keep myself from tearing up. I had a smile on my face that went from ear to ear and finally managed to tell her she looked stunning. I was the luckiest man that day marrying her and the luckiest every day after.
Did you do a first look? If so how did you feel about it? If not, do you wish you had?
Yes! I did not think I was going to cry and I did! My heart was fluttering when I was walking down to meet him.
Did you have a coordinator or did you plan everything yourself? If you didn't have a coordinator any advice for brides planning their own wedding?
Yes! Tori Patton. She was AMAZING! Seriously... the best. She also came on board last minute because our first one somehow did not have us booked when we thought we were. Tori is a friend of my uncles and she was phenomenal. Really took care of everything and relieved my stress!
What was your first dance song? Why this song?
Just Breathe by Pearl Jam! Mike's favorite band is Pearl Jam and he's always known Just Breathe would be his wedding song. I love it too!
Band or DJ? Did they rock it?
Ole Sole Band.... and yes!!!
We want to hear YOUR advice for future brides.
Go with the flow as much as possible. And the end of the day... the details really don't matter and what matters is that you are getting to marry the love of your life! Anything could happen and if you focus on the details too much, you'll miss out on the fun time it can be.