New Orleans Wedding Photographer, Kacie Fayard
How long have I been a professional photographer?
I have been photographing weddings and events since 2010. I started out as a second shooter for two years with Jen Amato before I came to work for StudioTran. I have been with them for a full decade now doing everything from associate shooting, second shooting and editing!

So how did my love for photography develop?
I guess the best answer would be straight out the darkroom! While I have always loved taking pictures, I never truly envisioned it as a career choice until my college years. When I was a young girl my great grandpa had a Polaroid camera that I was always infatuated with. I would beg him to take pictures simply so I could watch the image appear right there before my eyes. I still think Polaroid technology was fascinating and way ahead of its time! In later years, my mom was also a huge fan of those disposable cameras and constantly reminded me to be cautious about using up all the film. I would hold onto each frame and save it for the best possible moment and begrudgingly take the picture knowing it meant I had one less available picture to take.
(Fun fact: Despite the fact that I now own and regularly carry a professional camera, she still insists on using these wind up disposable film units to this day. She is also super offended when I want to use my camera instead of these dinosaurs, it's hysterical)

Enter the early 2000's and its upgrade in camera technology, my dad bought me my first digital camera when I was 13 and I LOVED IT!!! The freedom to take pictures of anything and everything was AMAZING! I upgraded to a new point and shoot model every couple years because they saw a lot of wear and tear. This was before camera phones so I took these things anywhere and everywhere. I wasn't always the easiest on electronics so I think my dad breathed immense sighs of reliefs when they finally started to invent waterproof and shockproof models. I printed all the pictures I took and scrapbooked them in books I still have today (side note: you should ALWAYS ALWAYS ALWAYS print your favorite digital pictures). I was even the photographer for my high school yearbook when color printed pages finally got introduced (typing this makes me feel so old). When I went to Loyola for college (Loyola New Orleans, I am a NOLA girl through and through and couldn't bear to leave home) I took a film class and absolutely fell in love with the darkroom. I would spend hours and hours in their watching the moments I captured come back to life. It was as if the same events I had witnessed in real time would then magically appear from nothingness back into reality. Everyone I knew started giving me old film cameras and it became my favorite way to document most things until 2010 when my dad bought me my first Nikon DSLR camera! I still have that particular camera along with an entire display of cameras, both digital and film, some that work and others that do not, hanging up in my living room!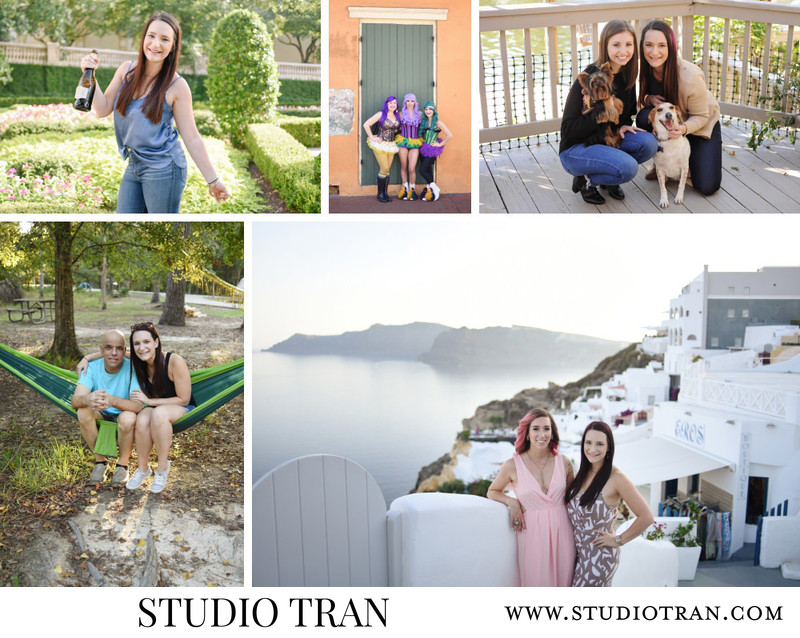 So how did this hobby turn into a potential career?
Honestly, life simply progressed in that direction. Most days I'm not sure if photography found me or if I found it! My senior year of college I was burned out on my degree and internship in psychology. My fine arts teacher at the time told me she thought I had a knack for photography, but warned me that it wouldn't be the easiest or most traditional path to pursue. No truer words have ever been spoken, let me tell y'all! Around the same time, I answered a craigslist ad for a local women needing a second shooter to help her at weddings. She was a wonderful mentor who I worked with for two years before she quit photographing weddings to focus on having a family ( I am happy so say she now has four beautiful daughters and I still see her occasionally). She recommended me to the Tran's a few months after she closed the wedding portion of her business down and I have been with them ever since! That was 10 years ago and while like any job it's not always perfect, I can honestly say I have truly enjoyed my journey with this profession and these people thus far! The skill set in which I have learned from the hands on experience they offer has been invaluable. Nothing you could ever receive from a classroom (though I do still take classes from time to time for fun)! Beebe and Corine and the rest of the Studio Tran team have also become like a second family to me. I love seeing them at work, but they are also an amazing couple to have as friends. They invite me to come over and watch the Saints games, get me a cake every year for my birthday and even take me to Mardi Gras balls! They always make sure I get home safe after late work nights and never send me home hungry (if you know me, you know how much being fed means). I couldn't have asked for a better group of people to work for/with regularly!
What about when I am not out photographing weddings/sessions/events?
You can find me eating oysters poboys with my mama and dem (it's true, we do this almost every Tuesday), traveling as much as possible with my sweet fiance' Woody (we got engaged in Mexico!!) , running a Mardi Gras parade, Krewe of Freret (anybody wanna ride in the best parade?!), dressing up for the numerous NOLA events that involve costumes and glitter (I own two overly stuffed costume boxes that I bust out at least once every other month), and spoiling our little four legged fur child, Sadie (she's a beagle mix I adopted in 2014, it's essentially her world and I'm just living in it).
Anything else you want to know, just ask!